Property Management: Industry Analysis and Future Predictions
Property management industry analysis is conducted regularly to showcase the market value of the sector and which factors are influencing a decline or increase in activity. From industry analysis, we can create market predictions to help directors and property managers — you — create informed decisions surrounding strategy, budget and training.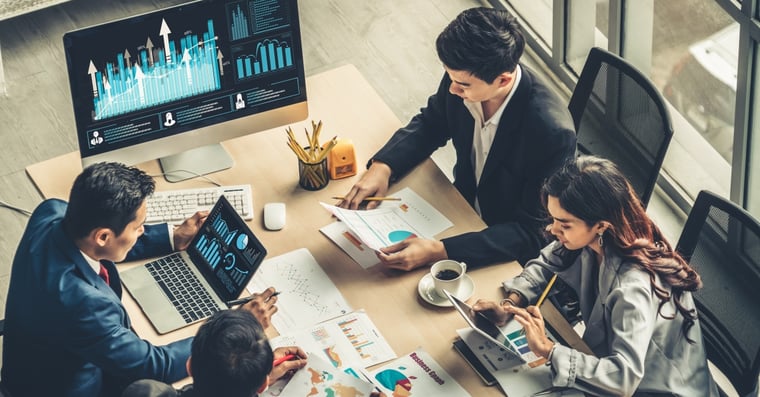 In 2022, it's never been more important to engage in industry analysis as we emerge from a global crisis and enter a new era of technological advancement. Read on to discover more.
---
Download Our Full Property Management Analysis for 2022
Save yourself some time and skip to the full version, our State of Property Management Report 2022. Each year, we produce a concise yet insightful report on the state of the industry, backed with market evidence and complete with 12-month predictions.
If you want to continue reading this article, don't worry. There will be another opportunity to download this resource at the bottom of this page. After downloading, you can share, save and use it whenever you like to make your next business year the best it can be.
---
Property Management Industry Analysis — 2021-2029
Valued by Fortune Business Insights at 17.69 billion USD in 2021, the global property management market is expected to increase by almost 20 million over the next decade. Market expansion, which will see the sector worth 37.25 billion in 2029, is driven by demand for property management software and greater customer support.
| | | |
| --- | --- | --- |
| 17.69 B in 2021 | 19.33 B in 2022 | 37.25 B by 2029 |
Although the global pandemic certainly created market disruption — with the same source noting a 9% decline in 2020 — further industry analysis and predictions show this interruption won't continue to hinder growth in the sector but may, in some circumstances, intensify well-established technology trends. For example, as more teams in the sector work from home, the need for inclusive, traceable technology will heighten, accelerating innovation in proptech.
Industry research has highlighted this relationship between decline and acceleration in different market areas:
"During the pandemic, the real estate industry experienced both a surge and decline all at once. [...] The pandemic provided property managers an opportunity to introduce and use new automation tools, such as smart and AI-enabled property management software."
As with many other sectors and functions, technology seems to be playing a pivotal role in rewiring how an industry operates. In property management, technology is being used not only by internal teams to create clarity in communications and data but also by the end consumer, including buyers, tenants and other stakeholders.
This leads us to predict that many major shifts in property management in the near future will involve technology, if not directly, then indirectly to allow for necessary changes.
Property Management Future Predictions
While we cover each prediction in detail, supporting it with the necessary information and statistics in our latest annual report, we overview some of these predictions and what they mean for the industry.
Demand for Rural Rentals
As the general population continues to work from home or engage in hybrid working, more renters are moving away from inflated city rentals in favour of more affordable and spacious suburban homes. With only 66% of travel returning to London pre-COVID, the UK's capital isn't coming out on top of rental demand for what seems like the first time in history.
Technology's role comes in the form of VR, 360-degree cameras and other technologies that allow movers to accurately survey new properties and minimise the contact in the viewing process. Property management teams may also look to proptech to perform tenant screening and to complete more intelligent onboarding.
Financial Automation
This technology trend, that many forward-thinking firms have adopted, is gaining momentum and is beginning to be seen as the way to chase rent arrears and provide timely accounting reminders, especially considering the mass amount of rental debt accrued during lockdown.
Automation, however, can find use in all areas of a property management business, from reporting to communications. Yet, it can completely transform financial processes and protect your business' bottom line, making the biggest impact here.
Rising Costs
In addition to automation, property managers will need to gain more financial visibility over their accounts, thanks to the plethora of costs associated with the industry in 2022 and beyond. All-in-one property management software will become a must-have for teams that require transparency and instantaneous financial data.
As well as the usual service charges and taxes, property managers will now need to contend with increased rates in these areas, as well as inflated material prices in large part due to Brexit and the great energy price hike. According to The Independent, energy bills have been increased by an average of 30%, while materials have increased by 3.1% since Brexit was finalised.
From New Property Identificators to Climate Impact, There's More…
It isn't just finances, automation and a shift in renter behaviour on the horizon, property managers can expect a flurry of change, prompted by external forces such as environmental pressure to reach UK-wide carbon targets and sector-specific needs like more accurate recordings of property transactions.
Either way, these changes are being driven and met with technological solutions, with a sunny forecast for the industry. Learn more about this shift in our annual State of Property Management report. You'll find more in-depth property management industry analysis and research to support market predictions for the next 12 months. As a professional, you can use it to inform your strategy for the year and allocate enough budget to areas of importance.
Get your copy for free by clicking the banner below.