The Future of Property Management in the UK
Every year, the property management sector explores innovations to combat challenges and accelerate growth. Several external factors determine these challenges, and getting ahead can be crucial to solving them effectively.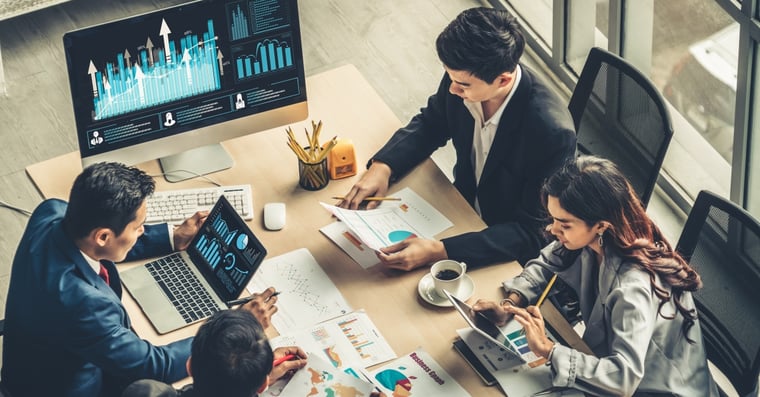 So, what lies in store for the property management sector? And what can property managers do to maximise growth and expand their portfolios?
Property Management Industry Analysis — 2022-2029
Valued by Fortune Business Insights at 19.33 billion USD in 2022, the global property management market is expected to increase by almost 20 billion USD over the next decade. Market expansion, which will see the sector worth a predicted 37.25 billion in 2029, is driven by demand for property managing software and greater customer support.


| | |
| --- | --- |
| $19.33 B in 2022 | $37.25 B by 2029 |
Despite several industry challenges, a 9.8% compound annual growth rate (CAGR) — accelerated by well-established technology trends — will see the sector thrive in the coming years.
As property management portfolios across the globe continue to expand, innovation in proptech will also increase to keep pace with an ever-growing industry.
As with many other sectors, technology's pivotal in rewiring an industry's operation. In property management, technology's being used not only by internal teams to create clarity in communications and data but also by the end consumer, including buyers, tenants and other stakeholders.
The latest predictions and innovations lead us to believe that proptech will continue to play a vital role in how property management businesses grow and operate across the globe.
What Does the Future of Property Management Look Like in the UK?
The property management industry's set for impactful change over the coming years, including extra technological innovations and an increased focus on environmentalism. Let's take a look at what the future holds for property management.
Proptech Continues to Grow
Many property managers are harnessing the power of proptech to automate critical tasks, generate efficiencies and improve decision-making.
Like it or not, the growth of proptech will continue to happen at pace. The proptech market's predicted to grow significantly over the next decade, rising from $18.2 billion in 2022 to a forecasted $86.5 billion in 2032.
Innovations such as artificial intelligence and virtual reality will continue to drive technology adoption, increasing convenience for property managers, landlords and tenants.
Plus, with the help of automation, property management employees needn't focus on repetitive, menial tasks, improving employee engagement. This could lead to further profits, with studies showing that companies with high engagement rates are 21% more profitable.
A Further Focus on Sustainability
As with many sectors across the globe, the property industry will require an increased focus on sustainable practices becoming the norm.
The focus on sustainability is spurred on by upcoming changes to government regulations and a shift in consumer preferences, with over 75% of millennials saying they would pay more for a greener home built using sustainable materials.
Since its introduction in 2019, the government's Net Zero campaign has targeted an improvement of energy efficiencies across property portfolios, introducing several initiatives to make the property industry greener.
However, more scrutiny is set to be placed on properties in the next few years. From 2025, new EPC regulations will come into force, making it necessary for domestic rental properties to have an EPC rating of 'C' or above. This could directly impact the property management industry as landlords' requirements may shift to meet these new regulations.
For property managers, technology can collect valuable data about a building's efficiency. IoT technology can track carbon footprint, water usage and indoor air quality for larger buildings, such as offices. Property managers, building owners and landlords can configure methods to reduce energy consumption with this data.
Rising Costs
The cost of living crisis is one of the major challenges facing the property industry in 2023. Tenants' needs and preferences may change due to rising bills and operational costs are likely higher for those who manage properties.
40-year high inflation heading into 2023 means business owners are tasked with finding new ways to cut costs. Property managers who invest in the correct software can generate efficiencies using technology and stay afloat amidst troubling financial times.
Build to Rent (BtR) — A Key Player in the Market
Thanks to BtR's resilience during the COVID-19 pandemic, investors targeted the sector throughout 2022, with more exponential growth predicted for 2023.
Strong rent collection and renewal rates — paired with low voids and arrears — led to a 13% rise in the number of BtR properties that had been completed, were under construction or were in planning in Q2 of 2022.
The BtR model often includes communal spaces such as gyms or work spaces, leading to larger-scale investments for those looking to rent the properties. Proptech can help to drive the success of BtR by:
Offering self-service portals that allow for 24/7 rent payments or maintenance requests.
Allowing staff to manage inspections and maintenance via web or mobile services.
Integrating IoT technology to automate processes such as checking occupancy levels or assigning cleaning jobs.
Read More on What's in Store for Property Management
Want to read more on the challenges and trends facing the property management industry in 2023?
Our annual report dives into what's in store for the property management sector and outlines several factors to be aware of throughout this year and beyond.
To access your free copy of the report, click the banner below.