How to Expand a Property Management Company in a Sustainable Way
We all want expansion. In business, bigger is better – right? But there's a wrong and a right way to expand a property management company. Gunning for growth could leave your firm to crash and burn. But sustainable expansion can bring success time and time again, as well as steady, trustworthy results and loyal, satisfied customers.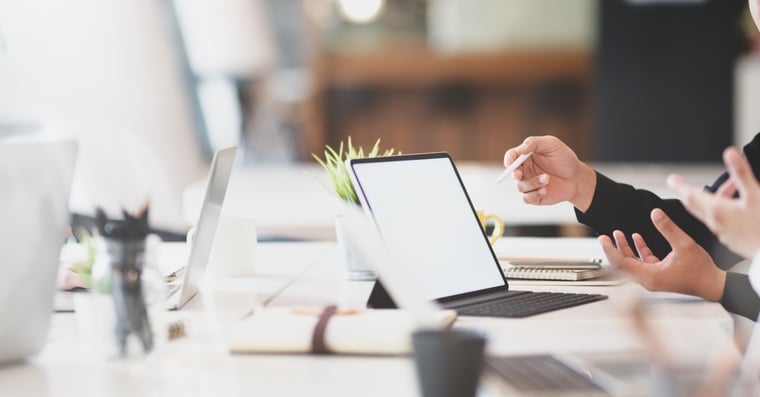 Sound good? Let's explore how to expand a property management company sustainably so you can rest assured you'll reach the top and maintain your position year on year.
1. Gain Exposure Through Effective Marketing
Increasing the visibility of your organisation is one of the most straightforward and logical steps to gaining more high-profile clients.
Property management companies can do this in multiple ways, including focusing on ranking for high-volume keywords relevant to their services and creating a social media presence with an engaged following.
Make It Sustainable: Use a Strategy
Producing effective marketing campaigns is about creating targeted content to reach your ideal audience. In the same breath, it's about valuing those channels that promise the highest ROI so your marketing budget can stretch even further.
Think of activities like content marketing that will produce evergreen blogs, whitepapers and other resources that customers can use to convert repeatedly, without the need for further investment.
2. Increase Efficiency and Embrace Automation
Efficiency and automation help property management companies in many ways, from increasing their professionalism to expanding their capacity for more complex, demanding projects.
Automation is one of those things aspiring property enterprises feel they 'should' be doing because of its modern appeal. However, automation has concrete benefits for your business, especially if you need to make room for what's on the horizon.
Make It Sustainable: Find a Single Source of Truth
Refining processes and choosing to automate some of them is much easier and far more sustainable when consistently using the same platform.
Property management software is a must-have for blossoming companies that want to create scalable processes that can easily be templated. Whichever solution you choose — as long as it's all-in-one — will give you the gift of having a single source of truth. Teams can trust their data and use it to their advantage.
3. Get Into a 'Growth Mindset'
Initially, this advice may sound less actionable than the rest. It's about changing the mentality and approach of your firm. But mindset is critical and influential to how fast your business grows.
Growth mindset is a broad term, but it encourages proactive thinking, bravery in investment and promotes employee engagement as the whole team gets behind the cause.
Make It Sustainable: Make Data-Driven Decisions
Despite attitude being a determining factor in professional success, it's important to make decisions based on data, not solely on the desire to grow. For example, a hefty investment into new technology without prior research or an adequate budget in this area isn't wise, even if you have a gut feeling that it might 'work out'.
For growth to be sustainable, actions need to be aligned with accurate forecasting and people need to remain accountable for their growth strategies.
4. Put Forecasting First
As we've mentioned, expansion plans can't rest on gut feelings or the simple desire to grow. Instead, expansion and the associated investments to reach these goals need to lean on data-backed decisions, usually as a result of forecasting.
Using property management software to run reports and perform frequent analysis is the true behind-the-scenes of property management growth. This is the necessary work of property managers to go from small business to enterprise level. It involves getting to know your business inside out, so you can take the right actions to enrich and expand it.
Make It Sustainable: Schedule Reports Ahead of Time
Forecasting, reporting and analysis all take time. Although this activity is worth carving out a chunk of your month or week for, it's more sustainable and realistic to schedule reports ahead of time.
Scheduled reports act as a reminder and as a way to shave off a few minutes from the task by already having your facts and figures at the ready.
5. Increase Your Industry Knowledge
Getting to know your business is one thing, but getting to know the industry and continually refamiliarising yourself with the latest trends and changes is a different ballgame.
Like many industries, the property market is a fast-paced environment with changes to legislation, behaviour and economy impacting the way things are done, as well as demand. As such, it's vital you don't get stuck in what works today and always look for what will be impactful tomorrow.
Make It Sustainable: Cherry Pick Regularly Updated Resources
In practice, you can't spend all day reading resources about the industry. As a high-growth company, your attention will be split among many activities, some of which we've covered in this blog.
Sustainable learning and development is all about committing to a few valuable resources that pack a punch in a short space of time. Taking inspiration from outlets you know are regularly updated, as well as trustworthy saves you heaps of time trawling through meandering blog posts and already outdated information.
Our state of property management report is one such resource designed to give property managers a quick yet thorough snapshot of the market, highlighting the potential challenges and opportunities for the next 12 months. It gets updated every year, providing you with fresh insights.
What more do you need to know? Download this year's copy and get one step closer to your goals.