Introduction
At Grosvenor Systems Ltd your privacy is important to us and we are committed to protecting and respecting it. This privacy statement (together with our Terms & Conditions) provides you with information about the personal information that we collect and the ways in which we use that personal information.
Please read this privacy policy carefully to understand our policies regarding your personal data. By visiting the website, you are accepting the practices described in this policy.
Grosvenor Systems Ltd. is the Data Controller of this website under the UK General Data Protection Regulation ("UK GDPR") effective as of 01 January 2021 and Data Protection Act of 2018, and as applicable the EU General Data Protection Regulation ("EU GDPR"). .
The purpose of this statement is to inform users of our website about the information that is collected from you when you visit this site, how this information is used, if it is disclosed and the ways in which we protect your privacy.
The Data Protection Act ("DPA") 2018 establishes rights for individuals whose personal data is processed by a third party; this alongside the UK GDPR and the EU GDPR protects and empowers all citizens data privacy. Any organisation which processes information about living individuals is a data controller for the purposes of the above referenced Act and Regulations. Grosvenor Systems Ltd., as data controller, is required by the Act to ensure that individual data subjects are aware of how their personal data may be used, the purpose/purposes for processing that data and to whom, if anybody, that data may be disclosed.
How we collect your data
As a visitor to www.grosvenorsystems.com we collect data when:
You browse our website
You submit a form on our website
You telephone us
You require us to access your system remotely
The Data we collect
When you browse our website
As a website visitor to www.grosvenorsystems.com we collect information about how you use our website.
Like many other websites, the Grosvenor Systems Ltd. website uses cookies. 'Cookies' are small pieces of information sent by an organisation to your computer and stored on your hard drive to allow that website to recognise you when you visit. See our cookie policy for more information.
We use the following website analytics tools:
Google Analytics – A web analytics service offered by Google that tracks and reports website traffic
Lead Forensics – Lead Forensics matches an identified business IP address to a wholly owned global database of businesses and business information. Lead Forensics does not identify any personal IP addresses, mobile devices or any other data than that associated with the business.
Hotjar – Hotjar helps us improve the UX of our website by using cookies. Hotjar does not identify any IP addresses, mobile devices or any personal information.
When you submit a form or telephone us
You may give us personal data directly when you complete a form on our website. We collect the following personal data on our forms:
Full name
Company name
Telephone Number
Email Address
Job Title
Other information that you may supply – this may include business information such as portfolio size, the existing software you use, the timeframe for changing systems etc.
When you request support and require us to access your system remotely
We use Team Viewer for all remote access to client systems and we log audit information of those sessions. Event data during remote control sessions is only collected from users who are authenticated as a member that has enabled event logging.
More information can be found here - https://www.teamviewer.com/en/trust-center/world-class-privacy/
What kind of data is collected
You will find a complete overview in the list of events below at the end of this article.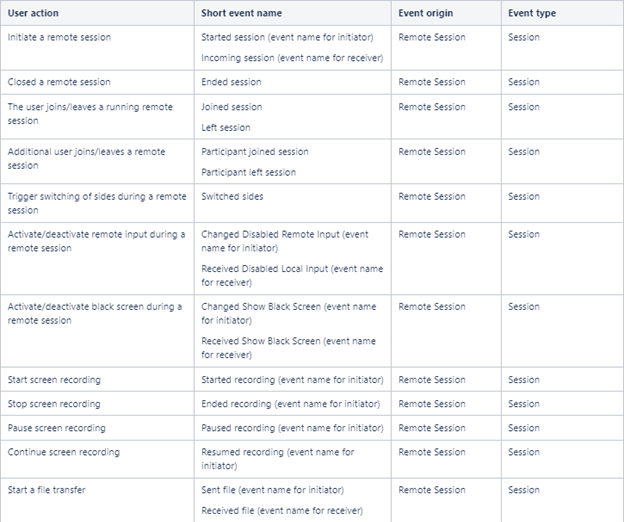 Whose data is collected during remote control sessions?
Event data during remote control sessions is only collected from users who are authenticated as a member of the company that has enabled event logging.
Examples of a remote-control session with two users:

Data retention
All event data is logged for 1 year on TeamViewer servers (located in Frankfurt). This retention period can't be changed. After 1 year all data will be automatically and completely deleted.
Other websites
This website contains links to other websites. Please note that we are not responsible for the privacy policies or practices of any third-party websites.
Why we process your data
We may use your personal information to:
administer this website;
personalise the website for you;
help keep our website safe and secure;
carry out our obligations arising from any agreements entered between you and us;
provide you with the information, products and services that you request from us;
provide you with information about other products and services we offer that are similar to those that you have already purchased or enquired about;
enable your access to and use of the website services;
help us understand the effectiveness of advertising to you to ensure we can continue to deliver relevant advertising to you;
notify you about changes to our service;
send you marketing communications
To offer you content we believe is in line with the theme of your website and you would want to publish.
You can opt out of receiving direct marketing information from us at any point by clicking 'Unsubscribe' in our emails or emailing privacy@grosvenorsystems.com
Who has access to your information
The information you provide us with after you have submitted an enquiry is stored in our Content Management System, WordPress, sent directly to the relevant teams via email and it is also stored on our internal Marketing Database, Hubspot. If you're a client, it will be stored on our internal CRM system, Salesforce, Zendesk and Hubspot.
Our inbound marketing agency, Digital22 also has access to this data.
We will not sell or rent your information to third parties.
We will not share your information with third parties for marketing purposes.
We may share your personal information with any member of our group, which includes our subsidiaries, our ultimate holding company and its subsidiaries. This is defined in section 1159 of the UK Companies Act 2006.
Where we disclose your personal information for these purposes, the organisation in question will be obligated to use that personal information in accordance with the terms of this privacy statement.
In addition to the disclosures reasonably necessary for the purposes identified above, we may disclose your personal information to the extent that it is required to do so by law, in connection with any legal proceedings or prospective legal proceedings, and in order to establish, exercise or defend its legal rights.
How we keep your information safe
We ensure that there are appropriate technical controls in place to protect your personal details. Our network is protected and routinely monitored and personal data is stored on secure servers.
We undertake regular reviews of who has access to information that we hold to ensure that your information is only accessible by appropriately trained Grosvenor System's staff.
The transmission of information via the internet is not completely secure. Although we do our best to protect your personal data, we cannot guarantee the security of your data submitted to our site and any data submitted is done so at your own risk.
Your data is:
Processed lawfully, fairly and in a transparent manner
Collected for specified, explicit and legitimate reasons
Adequate, relevant and limited to what is necessary
Accurate, and where necessary, kept up to date
Retained only for as long as necessary
Processed in an appropriate manner to maintain security
Transferring your personal information outside of the UK
As part of the services offered to you through this website, the information which you provide to us may be transferred to countries outside the UK and/or the EU. By way of example, this may happen if any of our servers are from time to time located in a country outside of the UK and/or EU. These countries may not have similar data protection laws to the UK. By submitting your personal data, you're agreeing to this transfer, storing or processing. If we transfer your information outside of the UK or the EU in this way, we will take necessary steps to ensure that appropriate security measures are taken with the aim of ensuring that your privacy rights continue to be protected as outlined in this Policy.
Information that we collect may be stored, processed in and transferred between any of the countries in which we operate to enable the use of the information in accordance with this privacy policy.
In addition, personal information such as your name that you submit for publication on the website (e.g. being part of a Client case study or client testimonial/quote) will be published on the internet and may be available around the world.
How long we hold it for
We keep information only for so long as it is needed for the efficient and effective delivery or fulfilment of the software, products, or services using or contemplating using by the Data Subject and for a reasonable time thereafter, or to meet any legal requirements. We will either destroy or remove information when it is no longer needed.
How you can access and update your information
The accuracy of your information is important to us. If you change email address, or any of the other information we hold is inaccurate or out of date, please email us at: privacy@grosvenorsystems.com or call us on 020 7378 8358
Your rights
The DPA and the UK and EU GDPR gives you the following rights:
The right to be informed
The right of access
The right to rectification
The right to erase
The right to restrict processing
The right to data portability
The right to object
The right to withdraw consent
The right to lodge a complaint with the supervisory authority
Rights in relation to automated decision making and profiling
Any access request to this information may be subject to a fee to meet our costs in providing you with the information we hold.
Should you wish to exercise any of these rights please use the "Contact Us" details below.
Contact us
If you have any questions about this privacy policy or how we process your personal information, please get in touch with us in either of the following ways:
Write to us by email to: privacy@grosvenorsystems.com
Write to us by post to: 7 Leathermarket Street, London, SE1 3FB (FAO: Andrej Korostyliov)
Call us on 020 7378 8358
Updating this policy
We review and, where necessary, update our privacy information by posting a new version on our website.
Check this page occasionally to ensure you are familiar with any changes.
This policy was last updated in June 2022.