Understanding the Basics of Accounting for Property Management
Being an accountant in property management is a high-pressure job. Not only do you need to know the ins and outs of accounting best practices, but you also have to keep up with complex customer needs and maintain the records for many property owners at the same time.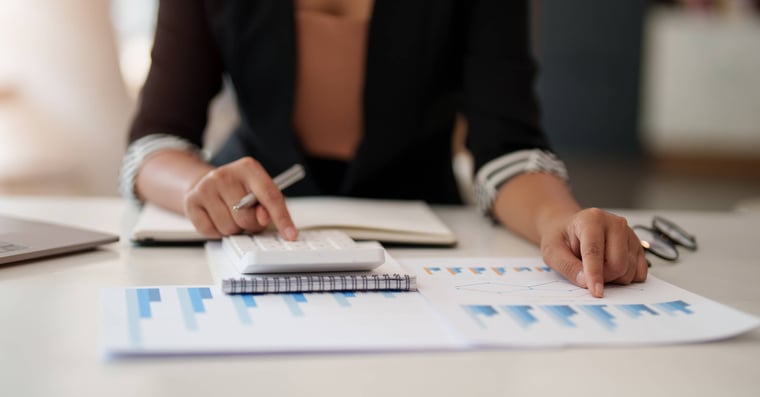 We understand this is no easy ask — especially if you're new to the industry or have just recently qualified to become an accountant. That's why we want to help you.
In this article, we're going back to basics. We'll start by providing insight into some of the more common accounting functions, why they're important and also explain how having the right accounting software can make your life easier.
Property Management Accounting Basics: What You Need to Know
There are some typical responsibilities property management accountants take on day-to-day. In this section, we'll look at some of these responsibilities and outline how the right software can support you when taking them on.
Accounts Payable
Accounts payable (AP) is a short-term debt and a liability your business owes to its vendors/suppliers that have provided the company with goods or services on credit. The end-to-end process of accounts payable includes four steps. These are:
Invoice capture: Typically, invoice capture involves manually entering invoice data into your system. However, doing so can present risks associated with accuracy and human error, so it's best to automate this part of the process as much as possible.
Invoice approval: Next, you'll need to get invoice approval which involves the review and approval of supplier invoices. This happens before posting as a cost in the ERP and sending payment.
Payment authorisation: Once you have an invoice ready to pay, you must get the go-ahead to make the payment. You'll need to know the date the payment intends to be submitted, the payment method and the amount being paid.
Payment execution:

Following payment authorisation, the invoice is paid and remittance details are sent to the vendor. Once this is done, the payment can be closed out of the system and filed into various repositories.

As you'll have noticed, accounts payable traditionally involve lots of manual work. However, with the right property management account software by your side, this doesn't have to be the case. Here's how.


How Can the Right Software Support You With Accounts Payable?
With property management accounting software, you can remove the risk of human error by automating your accounts payable processes. Accounts payable automation lets you submit and approve purchase orders and invoices for faster processing and better tracking.
On top of this, you can also keep up to date with your committed spend in real-time by working from a single source of truth. This enables you and your team to take ownership and ensure payments are always made on time.
Service Charges
Managing service charges can be challenging — especially as your business grows and so does the number of properties you manage.
The preparation and management of year-end service charge accounts can also be time-consuming. It's on you to ensure every property in your portfolio is accounted for and no payments are missed.
When managing service charge accounts, there are several factors you need to consider, including:
Funds for each property or scheme must be easily and separately identified. It's considered a breach of trust to use service charge money from one property to pay the costs of another.
You aren't required to have separate bank accounts for each individual property unless the lease requires one.
Service charge accounts aren't prepared on a simple profit and loss basis and need to include detailed expenditure as well as a balance sheet.
Service charge accounts should be prepared on an accruals basis. This means costs incurred but not paid should be included in the accounts.
We know how you feel — service charges and managing them correctly can feel like an overwhelming prospect. But having the right software can remove a lot of the pressures. Find out how below.


How Can the Right Software Support You With Service Charges?
Property management accounting software is built with functionality that enables you to run service charge reports at any time. These reports provide detailed insights into the position of any service charge period, making it much easier for you to stay organised.
In addition, the right software can provide you with real-time reminders and support you with balancing charges and crediting your different tenants. By downloading our comparison guide, you can learn more about managing service charges with property management accounting software.
Financial Budgeting
You're also responsible for your business' budgeting. This can be a hectic and stressful process due to its importance for effective finance management and ensuring your business continues to grow.
With so many different budgeting techniques available, knowing where to start can sometimes be difficult. Not only that, but you also need to spend time analysing future trends and considering different types of costs. All of these factors on a straight deadline? No thanks!
There are several factors you need to consider in financial budgeting. These include:
Fixed costs: Fixed costs are ongoing costs that must be factored in for the fiscal year you're budgeting for. In property management, these include service payments and insurance.
Variable costs: These costs change based on activity within specific properties. Some examples include maintenance, repairs and landscaping.
Estimated revenue: Revenue is the sales figure you anticipate making in the next year and should be the very first entry of your business budget.
Profit margins:

This value is obtained by deducting all expenses from your revenue, giving you the end value.
How Can the Right Software Support You With Financial Budgeting?
The right software will enable you to stay in control with full financial budgeting functionality. By having all of your detailed financial budgets in one place, which is easy to access, you can produce actual vs budget and variance at any time.
In the past, many accountants would have to manually enter data into spreadsheets to calculate their balances. Not any longer. Property management accounting software can update your financial budgets automatically, saving you time and allowing you to focus your efforts on other business-critical matters.
These are just a few examples of where property management accounting software can make your life much easier. We've compiled more scenarios and also provided a breakdown of how they compare against other solutions in our newest guide.
How Do You Choose the Right Accounting Solution For Your Business?
With so many options available, it can be tough to decide which solution is right for your accounting needs. The investment is high and you need to be sure the software you choose can contribute to the growth of your business.
In our guide, we compare some of the most popular software options, considering price, features, integration, reporting, data accuracy and ease of use.
Are you ready to find a solution that's right for you? Download a copy of the guide below to get started.