Working With a Remote Development Team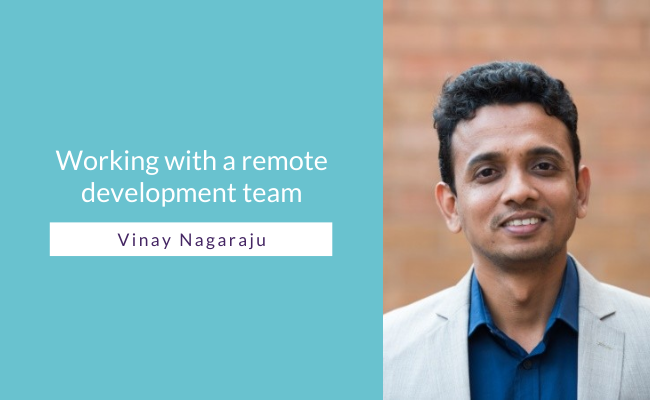 This week we caught up with Head of Product, Vinay Nagaraju to talk about how the Grosvenor Systems development team has adjusted to remote working.
How have you found working with a remote development team?
"Remote working overall has been good and although we do miss face to face meetings, the team have embraced distance working. The combination of agile methodologies, such as "stand-ups" being empowered with the use of collaboration tools has been very positive.
What collaboration tools have the team been using?
"We make use of Jira and Confluence which act as cloud based collaboration tools.
Confluence pages are used to update standard information from specifications to key functional requirements of our deliverables. Jira is

being used to consolidate all our development activities. The tickets in Jira contain all information specific to a development and are used as a central source of information. It also is a very powerful planning tool for us to keep abreast of our sprint goals, deliverables, etc.
We also make use of Microsoft Teams for instant communication. It has been a good equivalent to gather collective knowledge for any specific questions instead of having to call a specific person for clarifications. It also acts as a great broadcast tool for group specific information."
What is a "Stand-up"? And was it important that this was taken into the remote working?
"Stand-ups were introduced almost a year ago to enhance communication within the Development Team. The idea of stand-ups is to provide clarity for everyone in the team about what each developer is working on. They act as a forum to identify or express key challenges and whether someone can help them. Traditionally this will then branch off into a separate meeting outside the standup.
Although we were doing these standups physically before lockdown – using conferencing tools has been very efficient. It has helped us keep these stand-ups time limited and maintain better control on them. Given that we are all working from home, stand-ups have become exceedingly important to give clarity on what each person is doing on a daily basis and highlight important areas of work."
Do you think software development suits remote working?
"Yes, we have been able to adapt to remote working fairly quickly. Although there were initial concerns about remote collaboration, the team has adapted very well. Structured conversational platforms such as sprint planning, standups are extremely helpful.
In addition to these, the team is equally accessible with clear communication about their calendars which make collaboration possible. Given that the nature of our work can be split across different members in the team it has been feasible to conduct our development activities remotely."
Has anything surprised you about working with a remote development team?
"In a positive manner, yes. There has been an increased level of collaboration and communications are more visible. Prior to this, communications were sometimes lost in conversations. With a documented mode of communication, it has become easier to establish clarity.
In some cases – particularly with very visual elements such as new designs – physical meetings would have certainly been more preferable. We have been able to cope well, however, with technical aids and i'm pleased with being able to work with each other without compromising on our ability to collaborate."