Why WebUI? With James Seabrook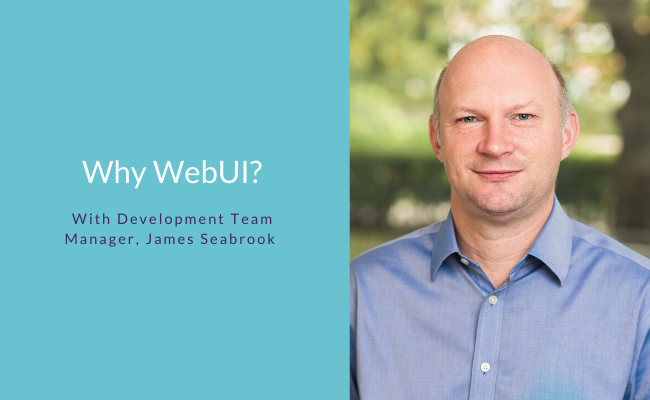 It's an exciting time at Grosvenor Systems as the next evolution in Propman's journey is coming to fruition. We caught up with Development Team Manager James Seabrook, who explained more about the WebUI and what this will mean for our users.
So, what does WebUI mean?
"Simply, WebUI is a web based user interface for our property development management software system, Propman. WebUI means we will be moving from a Microsoft application running on your PC to being able to access Propman through any web browser. A big part of this is resizing the interface for access on any size device and touch screen capabilities."
What has driven the change into WebUI?
"As ever we are driven by both our users and the market and the WebUI specifically comes from a desire for the systems we use to be more agile in order to complement the changing habits of a modern property manager. That primarily means catering for remote working and on-demand data available at the touch of your fingertips."
What benefits can Propman users expect?
"The WebUI will in the first instance primarily benefit surveyors/property managers and provide off-site access capability. It enables users to access and update information, logs jobs and action follow-up tasks quicker. Reports are run in the background and Users are notified when they're generated, which enables them to work on other tasks in the meantime.
The WebUI application uses simplified RESTful web services, therefore connecting other applications to your Propman system such as Dwellant and Fixflo is easier and quicker to get up and running. The WebUI is designed for all users, however, it has a more intuitive user interface ensuring it is easier to navigate for those who use the system on a less regular basis.
Finally, an often overlooked impact of a WebUI rollout is the reduction of IT infrastructure needed to support the system as it can be hosted on a server instead of locally."
Why is the development team excited to make the move?
"The development team have poured many hours into the WebUI so are really looking forward to getting it out to our user base. Moving forward, working with leading technology and flexibility in the architecture makes us more agile as a team and signifies a new era of Propman which is hugely exciting for us here at Grosvenor Systems."
What else is on the horizon for Propman?
"Over the next few years we will continue to expand the functionality of the WebUI so that it aligns with that already provided by the GraphicalUI. Propman as a product has a very broad reach so we are working through the functionality in a systematic and logical way. Alongside the WebUI, 2020 will also see enhancements to the Purchase Invoice Register (PIR) and Jobs functions to support multi-line expenditure and authorisation workflow. We have also developed further app integrations that will enhance the user experience, such as Salesforce, Xerox, GoCardless and Fixflo."
If you're interested in finding out more about Propman's web based property software user interface, you can book in for a demo.